Friends come in all shapes and colors. - Anonymous
A Friend
A friend is someone we turn to
When our spirits need a lift.
A friend is someone we treasure
For friendship is a gift.
A friend is someone
who fills out lives
With beauty, joy, and grace.
And makes the world me live in
A better and happier place.



A friend is one who knows us, but loves us anyway. -- Fr. Jerome Cummings
"A true friend is someone who thinks that you are a good egg even though he knows that you are slightly cracked." -- Bernard Meltzer.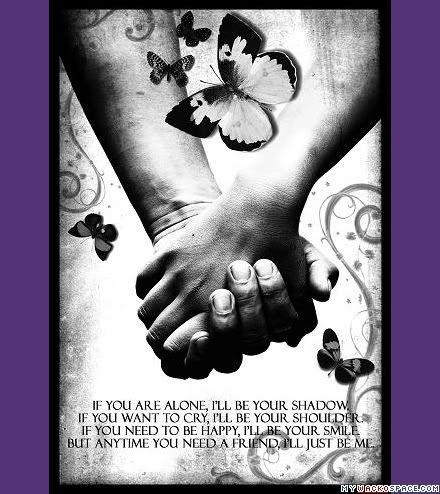 Some people come into our lives and quickly go. Some stay for awhile and leave footprints on our hearts. And we are never, ever the same.-- Anonymous

A friend is like a flower,
a rose to be exact,
Or maybe like a brand new gate
that never comes unlatched.
A friend is like an owl,
both beautiful and wise.
Or perhaps a friend is like a ghost,
whose spirit never dies.
A friend is like a heart that goes
strong until the end.
Where would we be in this world
if we didn't have a friend. - By Emma Guest



Thanks for being there for me,
through good times and bad times.
I will be on your side even if the the world ends.
When the world is going,
I will be here,
now and until the end.
Your my very best friend.
The one that I look up to.
The one that I run to, when I have a problem.
The one that I talk to.
Your the one best friend that was always there for me.
I wanna thank you for all the things you gave and showed me.
Let us all take a moment out of our busy lives to show our friends how much we care for them, and how much we thank them.

You're a true friend
You're here till the end
You pull me aside
When something ain't right
Talk with me now and into the night
'Til it's alright again
You're a true friend
-Hannah Montana, True Friend








You've Got a Friend in Me




You've got a friend




You've got a friend in me




You've got a friend(you've got a friend)




You've got a friend in me





When you're down and troubled




And you need some loving care




And nothing no is going right




Close your eyes and think of me, ooh




And soon I will be there


To brighten up even your darkest nights



Lean On Me - Bill Withers
Sometimes in our lives, we all have pain, we all have sorrow.
But if we are wise, we know that there's always tomorrow.
Lean on me, when you're not strong and I'll be your friend.
I'll help you carry on, for it won't be long 'til I'm gonna need somebody
to lean on
I'll Be There For You - Rembrandts


I'll be there for you
When the rain starts to pour
I'll be there for you
Like I've been there before
I'll be there for you
'Cuz you're there for me too...
There are so many people in this world, but you really only need one. One friend to change your life. One friend to bring a smile to your face. You were that one friend, and you still are that one friend. I hope it forever stays like that. I love you. - JZ
Sometimes in life, you find a special friend,
Someone who changes your life just by being part of it.
Someone who makes you laugh until you can't stop;
Someone who makes you believe that there really is
good in the world.
Someone who convincers you that there really is an
unlocked door just waiting for you to open it.
This is a forever friendship.
And when you find this, don't ever let it disappear.
Thank you to all my friends. The one who have been there for me through good and bad. The ones who love me for who I am. Without you all my life wouldn't be the same. - Joy